2021, a new beginning? It might look so, but we have to be honest: most of the fun is yet to come. Like chairman Mitsuru Murai said in a interview when asked about the format of the several leagues for this season, he explained 2021 will be a correction for the previous one. And that's why we haven't probably seen too many changes from Japan to Europe. But that doesn't mean that everything stayed still in the internal market.
Furthermore, if J1 and J3 won't probably witness a huge chunk of news, J2 definitely will. The four relegations will compensate the absence of play-offs and we are probably ready to see an unexpected drop happening this season. This page has surely bet on the descent of three teams to J3, but the fourth might be a surprise. It's like picking a card from a deck: you won't know what you've chosen until it's in your hand.
In J2, the relegation race looks full of suspense and the promotion fight is maybe limited to 4-5 teams, but the favorites might tumble (and it wouldn't be the first time we witness this). That's why this Winter and the moves on the market have been so vital for every club, researching the right formula to exceed expectations, repeat 2020 or just overcoming a dangerous path.
Like last year, we picked the 10 most interesting signings in our opinion. They were actually 11, but only because we see a possible tie in first place and we've already mentioned why Edigar Junio's move to Nagasaki might be the deal of the century for V-Varen (here). Besides that, though, we'll try to give more context on why those moves seem interesting and why they'll bring something to the teams which have brought them home.
No loans considered here, although we'd like to spend a couple of words for some of those deals: Yuki Horigome is free from JEF United Chiba and could be an excellent replacement for Ryoma Watanabe in Yamagata. Kiwara Miyazaki won't have to play J3 football anymore and he'll try to remind everyone his class with a Fagiano Okayama jersey. And the Kofu experience might help Gakuto Notsuda finding his way back to J1.
We also had to ditch some names from this special table – Albirex Niigata worked pretty well, Mizuki Ando can grow more at Mito HollyHock and Hikaru Nakahara is another talent to watch in Yamagata –, but then we picked these 10 players. And those 10 might change the destiny of a whole team. Let's start!
---
10. Tsubasa Ando | Vanraure Hachinohe » SC Sagamihara
To be completely honest, we can see Sagamihara dropping right away to J3. In our #JPred2021 (shout out to Richy Palmer for the game), we put the Tokyo-based side in 21st place, just above Ehime FC. They lost many key-pieces and they're not sure the replacements will comply with their needs, but Tsubasa Ando might be an interesting pick for years to come.
Given how Sagamihara lost Kanuma and Saito during last Winter, they need another offensive source and Ando might help. His rookie year in J3 has been particularly encouraging with Vanraure Hachinohe: after 16 goals in 28 matches in 2019 JFL with Honda Lock, he registered eight goals in 31 games with the 15th-placed team in 2020. He could be a surprise in the third leap of his career.
09. Kensuke Sato | Yokohama FC » Renofa Yamaguchi
Renofa Yamaguchi haven't exactly experienced the best possible year in 2020. Their last place in the table raised more than one alarm and the board has done a decent job in trying to fix those problems: Susumu Watanabe is the new head coach, their Winter market transfer has been decent and we gave them the best chances to survive among the four teams who were in the last two spots in their leagues, but didn't get relegated.
If they have better chances than before, it's also because they signed Kensuke Sato, a silent warrior in J2 and a player who featured 20 times last year in J1, when Yokohama FC came 15th and theoretically avoided relegation. Sato played 286 matches in J2 in his career and Yamaguchi lost Takahiro Ko. They needed a grit-and-grind player for their renaissance: Sato might be the pillar to build around, despite being already 32.
08. Taiga Maekawa | Cerezo Osaka » Giravanz Kitakyushu
Cerezo Osaka probably pondered enough this Winter about the future of their talents: without a J3 team to play in, many were either sold or loaned. While some of them stayed in the senior squad, some of them already left before this deadline. At least in theory: Taiga Maekawa, for example, is just 24 years old, but has featured for a long time in Cerezo's roster without actually playing.
From 2016, he has been consistently loaned to other teams: three years at Tokushima Vortis, one season with Avispa Fukuoka and an encouraging stint in Yamagata. Despite this, Montedio didn't retain him and he ended up in Kitakyushu, this time for good. Given all the pieces Giravanz lost this Winter, he could easily find space and being a starter: he played already 143 matches in J2, he'll surely help Kobayashi in his tough quest.
07. Seiya Nakano | Júbilo Iwata » Omiya Ardija
This move represents a wider discussion we've already have about Júbilo Iwata. The club should have rebuilt around youngsters, but they never had this convinced turnaround and now they're ready to start 2021 with the Gamba-loanee Yasuhito Endo as their best player in their roster and Masakazu Suzuki as their manager, confirmed after a decent stint in the second part of 2020. Seiya Nakano is among the ones paying this decision.
We don't know if Júbilo will effectively reach Top 2 (we doubt it), but Omiya benefited from this confusion. Since his days in the Emperor's Cup with the University of Tsukuba, Nakano looked talented, just like in his loan at Fagiano Okayama. We have already said it in 2019: he just needed care, attention and full trust. They didn't come and so he had a decent, but not breakthrough season (just like Koki Ogawa).
This is the issue for a club like Júbilo. They should have learned how rebirth comes with a rebuild: that's exactly what they did in 2015 under Hiroshi Nanami. And that's what S-Pulse have done the year after as well, when they dropped to J2 and immediately bounced back to J1. This renovation hasn't happened in 2020 and probably won't in 2021; Omiya, instead, could feature an interesting offensive trio with Nakano, Kurokawa and Okanishi, especially if Nakano will solve his efficiency problems in front of goal.
06. Takaki Fukumitsu | Cerezo Osaka » JEF United Chiba
We know, we know. We've already put Fukumitsu in this special table in 2020 and no add might really help JEF United Chiba in changing their situation. In the end, though, Avispa Fukuoka found a valid offensive solution in the former Renofa Yamaguchi and JEF United are still where they were, so… why not betting on this marriage? We would because this time Cerezo opted to let Fukumitsu leave Osaka permanently.
The career of the winger has been strange: he exploded in JFL, he did wonders with Renofa both in J3 and J2 and then tasted the highest stage in Japanese football… only to not see it again. One year on loan at Mito, another year on loan at Avispa and now a permanent move to Chiba. Nevertheless, talent-wise, we're sold on Fukumitsu, who should have deserved a shot in J1.
Cerezo thought otherwise, though, and now the winger will start back from J2, where he already played 85 games. He's just 29 years old, but his career is already so full of different events and clubs. At this point, we don't think he'll be able alone to U-turn the fate of JEF, but he might at least replace Tameda in a solid way and grant fans some solid performances.
05. Dudu and Jong Tae-se | Ventforet Kofu/Shimizu S-Pulse » Machida Zelvia
If you look at last year's table, you'd argue that Zelvia were lacking mostly one thing: goals. They had the fourth-worst offense in the whole league, tied with Tochigi (41 goals scored). Small detail, though: Tochigi conceded just 39 goals, while Machida allowed 52. And if some efforts have been put in place to improve the defense, they also needed some renovation up front.
When it became clear that Peter Utaka wasn't anymore reachable (by renewing his deal with Kyoto), Zelvia opted for a package resembling the Nigerian forward's firepower. Dudu and Jong Tae-se are separate players, with different careers right now: the Brazilian is just 30, while the North Korean turns 37 this year. Nevertheless, both have respectable numbers in J2: Dudu scored 27 goals in three years between Fukuoka and Kofu, while Jong Tae-se has a score of 35 goals in 63 games in the division.
When Niigata suddenly lost Fabio mid-season in 2020, he came in and became crucial for them. Sure, the overall age of the forwards department at Zelvia is high – if you include also J2 legend Yuki Nakashima, looking for his 100th goal in the league –, but assisted by Taiki Hirato and Kaina Yoshio, they could shine together, while Zelvia could hope to climb the table and being away from trouble this time.
04. Kaito Taniguchi | Roasso Kumamoto » Albirex Niigata
Is there really something more we can say about Kaito Taniguchi? We just wrote an article about him two months ago, explaining why he was the "Best Signing" of 2020 and hinting at how he needed a new challenge, this time in the second division (after 42 goals in J3). Niigata is a good place to take it up a notch, since working under Spanish head coach Albert Puig will help him grow and test his skills at a higher level.
We're just wondering how exactly he'll play within the 4-2-3-1 of Puig. Until now, Taniguchi has played as a striker in Morioka and as a left-winger in Kumamoto. Both those roles are on paper already booked by super-star Shion Homma and newly arrived striker Koji Suzuki. What will be decided for Taniguchi? Will he play on the right? Will one between Suzuki and Homma sacrificed? That's a good question for this season.
03. Shohei Takeda and Naoto Misawa | Ventforet Kofu/Gainare Tottori » Kyoto Sanga
Many said that you win leagues through defense. That's not entirely through: systems help, just like a solid identity and a true no. 9. Kyoto Sanga seem to have everything set for 2021, after a disappointing season, but we'd like to focus on the midfield. They brought in an immense amount of talent, but we might be curious even more about the potential they might discover along the way.
In the 3-4-3/3-4-2-1 designed by Cho Kwi-jea, Yoshihiro Shoji and captain Temma Matsuda should be the starting central midfielders. But behind them, there are two interesting options. One is Shohei Takeda, who could even jump Shoji in the hierarchies and find himself starting soon: he was a solid player in Okayama, but his season in Kofu elevated him to the elite among midfielders in the division.
And Naoto Misawa? He's only played in J3 for now – one year with YSCC, two satisfying seasons with Gainare Tottori –, but to us he looks like a potential bargain. He could play in the center or even slightly ahead, in the two behind the striker. What if Utaka could have less attention by defenders because Sanga has an alternative weapon just a few meters behind? The rage of Misawa's right foot could help answering this question.
02. Víctor Ibáñez | SC Sagamihara » Montedio Yamagata
Constancy is surely a trait for the Spanish goalkeeper. When he moved to SC Sagamihara last year, we had put him in position no. 2 among the best moves in J3 for the 2020 season. He's repeating himself, coming short of just one place to top this special table. But if it's possible, this time his move looks even bigger than 2020 in terms of the impact he'll have, both in the club he's leaving and the one he's joining.
SC Sagamihara had the second-best keeper of the league and Víctor was fundamental for the club's defensive solidity in their promotion run (they conceded 10 goals less compared to 2019). And Montedio really, really need a decent keeper: Masatoshi Kushibiki can't be the starter in a J2 team now, Eisuke Fujishima spent a lot of time on the bench at Kawasaki Frontale and Akihiro Sato just retired.
The difference Víctor could make for Montedio could be crucial to determine if Yamagata will endure another mid-table season or they'll try the great escape, chasing an unexpected promotion chance with a solid keeper between the posts.
01. Kazuma Yamaguchi | Kashima Antlers » Matsumoto Yamaga
We said how the signing of Edigar Junio broke time and space in our view, but we can't deny we're impressed by Yamaga. After a rebirth in the second part of the season, Kei Shibata – confirmed at the helm of the club – just decided to rip apart the whole roster. It's tough to find a confirmed element within Yamaga's squad, but the addition of Kazuma Yamaguchi is one of those hits you can brag about with your rivals.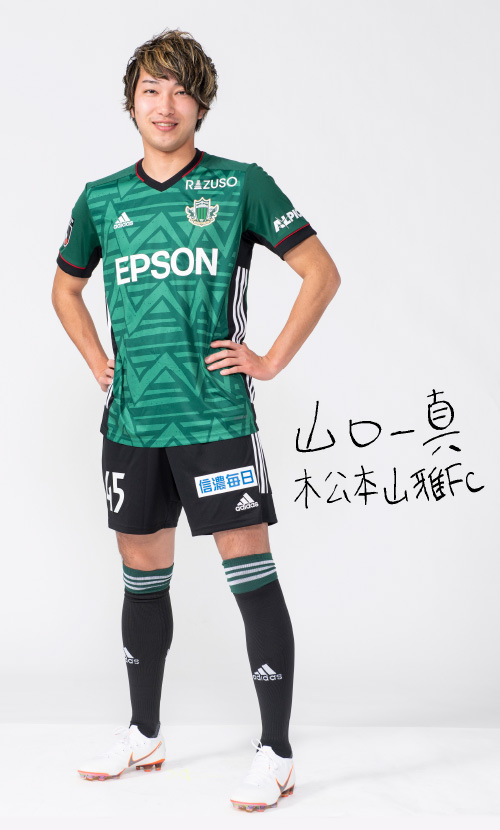 The real question is about Kashima Antlers: why letting such a talent leave after the year he had at Mito HollyHock? We expected Yamaguchi to come back to Ibaraki or, at least, be loaned to another J1 reality. Instead, Matsumoto acquired him permanently, in the same Winter where Daizen Maeda left once and for all. Yamaguchi must recover from a nasty injury picked up at the end of 2020, but he looks ready to smash the world.
His first full pro-season as a starter was a success: 15 goals in 35 games, confirming the good omen of HollyHock in becoming a place where talents properly develop. It could be that Antlers didn't see too much space for him in the immediate future – they have Everaldo, Araki, Juan Alano, Doi and Endo –, but it looks like a mistake. But that's okay: surely Yamaga fans will have a nice time in chasing the return in J1 with this striker.