Kawasaki Frontale – offensive juggernaut in recent years. Prodded forward by the incessant accuracy of Kengo Nakamura, and led from the front by the effervescent, yet under-appreciated Yu Kobayashi. Kobayashi is an integral part of the way that Frontale have become a highly regarded J1 team, and a strong reason that they are in with a chance of achieving continental glory.
For more on Kobayashi's influence, regular Regista-ist Gabriele Anello spoke about he fits in with what Kawasaki want to do. Enjoy!
When you change a lot, it's hard to adapt. Football tells it so, just as life. So there was nothing wrong when you scrolled your J1 League preview and found Kawasaki Frontale under the label "doomed" (just as Omiya Ardija, but that's a different story).
Instead, six months later we have to notice how Kawasaki is not only in the race for 2017 J1 League title, but they'll also represent a tough challenge for Urawa Red Diamonds in AFC Champions League quarter finals (edit – at the time of writing, Kawasaki are 3-1 up from the first leg, with Kobayashi netting a brace)
There are many reasons why this happened. A good coach, a certain mentality, a couple of solid signings (yes, I'm talking to you, Hiroyuki Abe) and youngsters delivering as expected, but IMHO there's a MAJOR reason.
And that reason is well suited in Yu Kobayashi's silhouette.
True soldier
Yet, no one would have said it probably until 2015. That's because Yu Kobayashi was (and probably will always be) a under-rated player. Raised, footballing wise, Takushoku University after high school, Mito HollyHock chose him to play on loan for five games during the 2008 J2 League season. Someone took note, since Kawasaki Frontale decided to sign him for 2010 season.
After finishing university, Kobayashi struggled to find immediate space on the pitch. In part because of some precedent injuries, but also due to high competitiveness at Kawasaki, where Renatinho, Jong Tae-se and legend Juninho were already fighting for some minutes. After 2010, though, Kobayashi had finally his chance and he quickly established himself as top-scorer for the club in 2011.
But it wasn't enough. Despite several managers – Sekizuka, Soma and ultimately Yahiro Kazama – training him, Kobayashi never became the star of the team. First Kengo Nakamura (a true legend, even nowadays), then Yoshito Okubo occupied the front page. And this happened despite Kobayashi scoring 14, 10, 7 and 15 goals in his first four starter-seasons.
From the side to the core of the engine
Along the way, though, something switched. First of all: Kazama's spectacular brand of football became a trademark for Frontale. Yes, they still didn't win any silverware as today, but Kazama's style was entertaining, done with the right players and competitive enough to retain the job. Second: Renatinho was sold in 2015, going to Guangzhou R&F in China's CSL and leaving more responsibilities towards Kobayashi.
You could already see that in 2016: I was personally present at the first Tamagawa Clasico of that season and Kobayashi sealed the deal with the 3-2 goal for the away win. Yes, he also managed to miss a big chance in front of an open goal, but he was finally decisive and he grew in performances. He formed a good partnership with Yoshito Okubo, who – I want to underline this – became the all-time top-scorer of J1 thanks to Kazama's football madness.
Capable of playing as main forward, second striker and winger, Kobayashi was useful in several ways for Kazama. But something even greater changed last winter. Yoshito Okubo left Kawasaki, but not the capital of Japan, moving to their arch-rivals FC Tokyo. This opened up a spot, given from the new coach to Kobayashi. Yes, because also Yahiro Kazama considered his cycle at Kawasaki ended, moving to Nagoya.
Like we said in the beginning, Kawasaki could have been done. We have seen in Osaka and Hiroshima how long-term cycles can end (Moriyasu) or should be ended (Hasegawa). Toru Oniki, the new manager of Kawasaki, didn't have an easy task, but he did it until now: the squad is competitive, they're fighting on two competitions (potentially four, if you count Emperor's Cup and J. League Cup) and Kawasaki didn't suffer too much from two major goodbyes.
But this would have impossible without Kobayashi.
Time to shine
When Okubo left, we thought – probably everyone thought – Kobayashi would have the bigger loss. Wrong, wrong: Okubo has now scored seven goals in 18 games, suffering the separation from Kazama. Instead, Yu Kobayashi may have been playing the best season of his life.
You know what's most important? He could have left too. Kobayashi received many offers in the last winter (Gamba Osaka, but especially Vissel Kobe and Sagan Tosu tried. Hard), but he stayed. To prove something? We do not know and it doesn't seem like it, but on the pitch he did that. Big time.
As first thing, Oniki gave Kobayashi the armband of captain. A huge move, if you think Kengo Nakamura is still playing really well and he's an institution at the club. But he was right, because Kobayashi is the technical soul of Kawasaki: he has played all 22 matches in J. League, he has already scored 14 goals between league and AFC Champions League, bringing Kawasaki to the quarter-finals.
On top of that, Oniki practically fields him every time. 2016 was big (he was the MVP of July and featured in the Best Eleven), 2017 may and probably will be the best year in Kobayashi's career.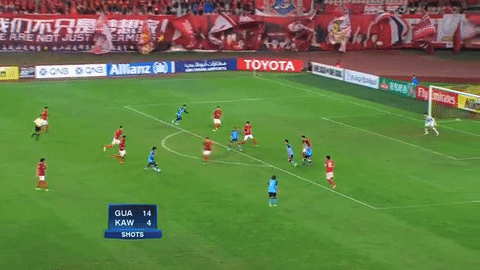 The highlight of this dominance? You could already spot it here, here (even on defence!) or here. But Kobayashi joking with Guangzhou Evergrande's defence (above) is probably the must watch.
This also bring some questions about his time with Japan NT. Kobayashi has collected only 8 caps and the only huge presence was in the game in Australia (83 minutes played: probably he was chosen by Halilhodzic because the Bosnian manager opted for a defensive asset… Honda played as CF). Otherwise, YK11 has been used only in less important games or for a few minutes. The no. 11 of Kawasaki took also part to 2015 AFC Asian Cup, called up by Aguirre, but he never played.
After one year from his last presence, it might finally be his time to feature? It certainly does looks like it. And for now, he's the silent MVP of 2017 season.
Yet another excellent analytical piece from one of the brightest writers on the Japanese game. Thank you Gabriele!! Gabriele writes for Mondo Futbol on a regular basis, and has written many times for us here. He tweets regularly about the Japanese national teams, and the goings on in the J.League at @nellosplendor. He's also changed his Twitter profile picture to a sharp linen jacket – typically cool Italian style 😉